Special Services
In line with JOCANIMA Corporation's aim to provide only the best customer service, the company provides not only international quality products but safety services as well through its After-sales Services and Product Stewardship Program. Through these programs, JOCANIMA regularly gives lectures and seminars on correct and proper usage of the products they sell to ensure the safety of its customers and end users. When needed, the company also provides various protective gears to those who personally apply the crop protection chemicals onto their crops.
Product Stewardship Program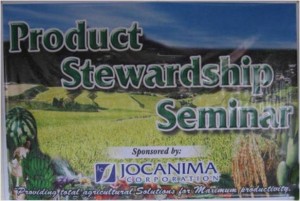 JOCANIMA Corporation takes it upon itself, as a responsible crop protection company, to have an active Product Stewardship Program (also known as extended product responsibility or ERP), as the company recognizes its role to reduce the environmental impacts of its products.
Under this program, JOCANIMA holds frequent product stewardship lectures for their consumers: plantation personnel, farmers, agriculturalists and informs them of the proper usage, dosage and application of their products to maximize
productivity, but most especially ensuring the safety of the crops and the people using them. Through these lectures, the direct users of the product are given very valuable information and warnings on the various preventive measures one should take when handling the company's many chemical products. As an extended service, the company also provides protective equipment such as long sleeved t-shirts, hats and gas masks, etc. for those who directly handle the chemicals. The company also makes it a point to collect empty chemical containers from their customers, if the customers allow it, and takes it upon itself to disposes of these containers properly, ensuring proper waste management and control.
Integrated Mosquito Control Program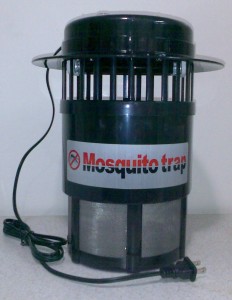 JOCANIMA Corporation recognizes that here in the Philippines, Dengue and Malaria cases should be included as top health priorities and should be addressed immediately, as the number of people who are inflicted with these diseases are continuously on the rise. The Integrated Mosquito Control Program encompasses all the aspects of controlling these said diseases through the introduction of Deltacare, an insecticide, and the Mosquito Trap, an innovative mosquito trapping device which uses CO2 to naturally attract mosquitos. Jocanima, with the help of the local government and various health organizations of cities, villages and communities, is implementing the IMCP in and around areas where outbreaks are prevalent.