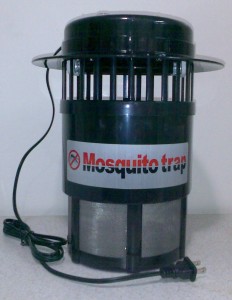 MOSQUITO TRAP
Specifications
Power requirements
AC 220V 60 Hz
Power consumptions
28W
Net weight
1.7 kg
Effective area
120 s.q. meter
Accessories
Cleaning brush; Belt; Metal hook; Chain; 2 pcs photocatalyst; Operational manual
Principle of Capture
Mosquito trap attracts and deceives mosquitoes through release of carbon dioxide, UV light and heat.
Decoyed mosquitoes enter the trap through the capture windows and then strongly drawn into the capture net by a strong current produced by the ventilator.
Mosquitoes or insects that remain captive inside the capture net and the blowing fan will eventually dehydrate and dies.
3-WAY INSECT CONTROL
1.Two lights generate warmth and UV rays attracting mosquitoes and biting insects.
2.Carbon dioxide produced when photocatalyst light are radiated onto the titanium dioxide (TiO2) coated funnel.
Photocatalysis is the decomposition reaction formed when Titanium dioxide, as a catalyst, uses light energy. It carries out the function of purifying air and sterilizing various bacteria by decomposing foul-smelling molecules.
Behavior of Mosquitoes and other biting insects
Mosquitoes and other biting insects have the ability to detect carbon dioxide, heat and moisture from long distances and are immediately attracted to it.
Mosquitoes are also attracted to trace amounts of alcohol vapor as well as dark colors, especially black.
Mosquitoes fly around and search using their sensors for a warm body to start biting.
TiO2 was approved as a food additive in 1968 by the United States of America and now used in making chocolates.
3.Strong vacuum action that draws mosquitoes and other pest into the trap where they dehydrate and die.
Mosquito Trap Key Benefits
Can be used indoor and outdoor
Easy to clean and maintain
Operation easy – just switch on!
Effective trapping Mosquitoes. Decoys mosquitoes with carbon dioxide produced during photocatalysis and with heat and light.Built in Powerful fan pulls mosquitoes in and traps them.
Environment friendly, insecticide-free and harmless to humans.
Purifies and sterilizes air through photocatalysis effect.Its operation is silent and odorless.
Where to buy?
Call us at (632)800-6237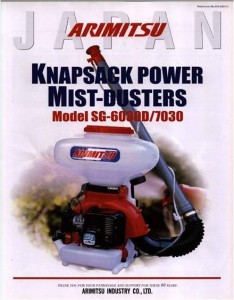 ARIMITSU KNAPSACK POWER MIST-DUSTERS
One level operation for setting up the tank quickly
Upgrading and powerful gasoline engine
Newly designed housing type slide lever
LIGHT WEIGHT NEWLY-DESIGNED
POWERFUL FAN BLOWER
QUICK AND EASY SETTING UP OF THE CHEMICAL TANK
FOR ULV (ULTRA LOW VOLUME) SPRAYING:
Discharge volume—–45e/min
Droplet size—–20˜25 micron
FOR MIST SPRAYING:
Discharge volume—–0.5-4e/min
Droplet size—–45-50micron
SPECIFICATIONS: (Click the table to enlarge)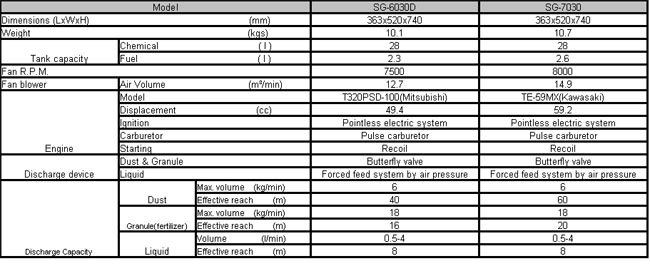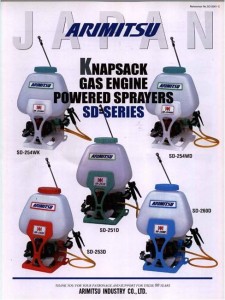 ARIMITSU KNAPSACK GAS ENGINE POWERED SPRAYERS

Opposed Double Plunger Pump
Less pulsation & vibration
Uniform pressure levels
Nozzle(s) attachable to either right or left side, or to both sides for your convenience
Air Cooled 2 Cycle Gasoline Engine

Minimal vibration
Minimized operating noise
Economical & easy to operate
25 Liter Chemical Tank
Variety of Spray liquid
Spraying agricultural chemicals and fertilizers in liquid on livestock to vegetables
PRESSURE REGULATOR
3-stage position
Low pressure
Medium pressure
High pressure
SPECIFICATIONS: (Click the table to enlarge)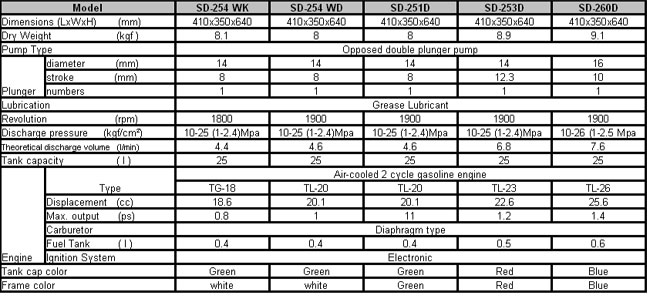 Should you be interested in the products above,
please contact us at (632) 800-6237 or (6382) 2331265.
You may also email your inquiries to sales@jocanima.com